Nearly 40 years ago, Marilyn Owenby wanted to paint a nativity set. "So I painted it, but then I got hurt at work and I couldn't finish the eyes," she recalls. With most of the prominent elements cleaned, sanded, and painted, she took it to a friend's house to help with the small details. "She helped me finish them, and she got me on all this other stuff," says Owenby. A date brushed delicately on the bottom of a model schoolhouse reads "1983".
Visitors to the Warren County Historical Society this December — and the last three Decembers — have seen the "model village" amid the other displays grow larger each year. The desire to paint a nativity set grew into plaster pieces that became more durable ceramics and tiny life-like figurines.
"I've done maybe fifty pieces or so over the years," says Owenby. "It's probably a lot more."
This year's holiday village display features 39 years' worth of work by Owenby. "I've got animals like cows, chickens, roosters, and geese," she says. After a mountain lion was struck and killed near I-70 a few years ago, she added a mountain lion to the display. A black bear that came behind her house was immortalized, too, shown coming out of a little knot hole in a tree.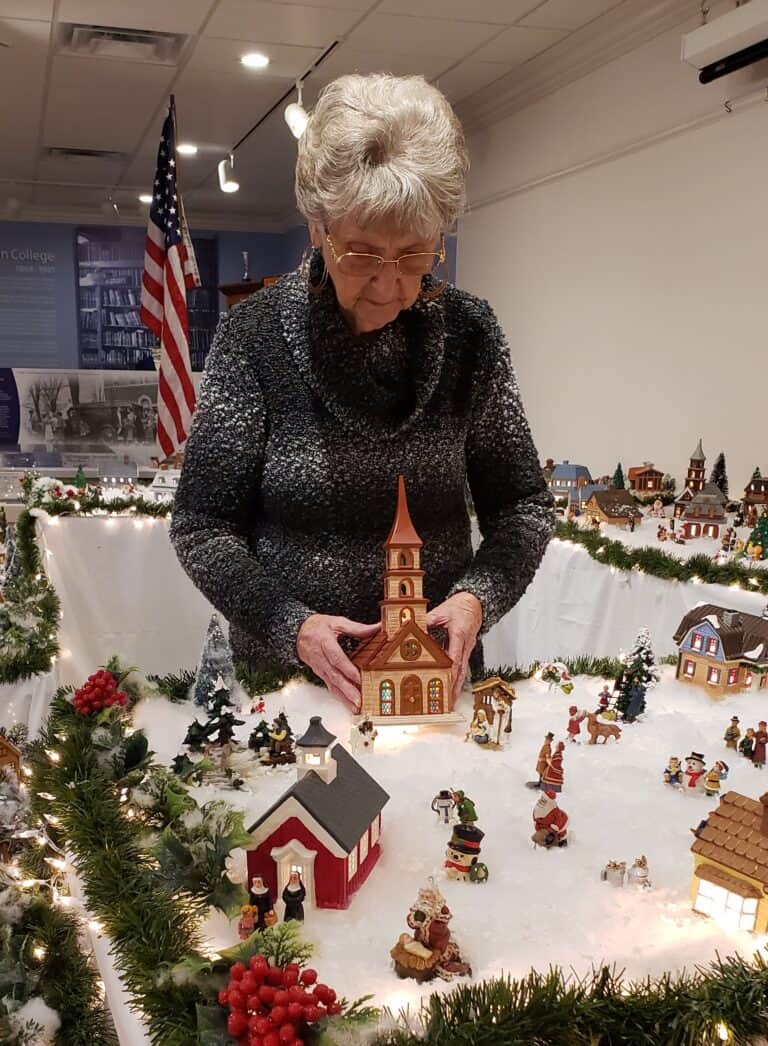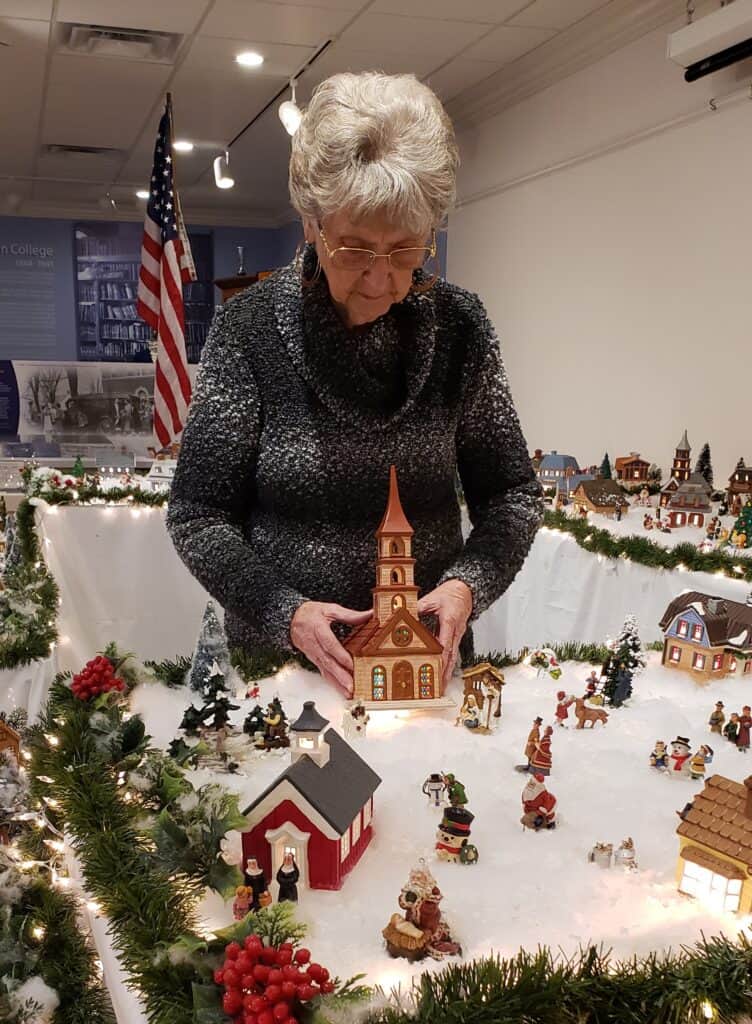 "There are shops, barns, schools, and churches with kids and nuns," she says. "And lots of houses."
The houses and buildings sometimes remind her of the houses and buildings around Warren County. "Before they tore down the courthouse, I stood in the back and tried matching the paint color of my courthouse to the bricks on our old courthouse," she says. "It doesn't look like our courthouse, of course, but I think I got the color to match pretty well."
On another end of her sprawling village is a blue house that's extra special. "My aunt made this one, and I bought it at her estate sale a few years ago since no one else wanted it." She adds, "It reminds me of the Schowengerdt House because of the turret on it." Other houses have been added after someone buys and gifts it to her, too.
Inspiration for what gets added next tends to come throughout the year as she browses sales, stores, and resale shops. "Sometimes people start something and never finish it, so I bring it home and repaint it," she says. "I start thinking about new pieces now for next year's display."
When Owenby started painting, each ceramic piece had to be cleaned, sanded, scraped, and painted. Some may come already painted and need repainting. Today, most are ready-to-paint. If the structure needs thick dollops of snow on a rooftop or grass, each piece may need firing twice. Intricate brushwork on tiny hands, faces, hats, scarves, bricks, and bushes requires extensive detail, too.
Owenby, who has nine children, 20 grandchildren, and 35 great-grandchildren, often draws the most inspiration from her family. She's memorialized beloved family dogs and cats in ceramic, as well as her grandkids' favorite toy tractors and farm animals. 
"This year the snake — which is actually a cobra — seems to be a charmer with the kids," she says. "I have a granddaughter who really loves snakes, so I found one. And another grandkid who loves roosters, so the rooster is crowing at the snake." Cobras are native to India and China, so Owenby hid all but the snake's head in a pile of hay to retain realism from sharp-eyed observers, who are, somewhat to her surprise, most often men. "They'll tell me I might need or missed something, but I can often go show them where some figure or detail is," she beams.
"One of my favorites is the Salvation Army bell ringer and the military handing out gifts for Toys for Toys," she says, eager to point out the firemen, people making snowmen, and other figurines living in a winter wonderland. "I like showing it to kids at the Museum because when you look at it alone, you might miss a lot."
Owenby adds a new piece each year. This year she added perhaps the most important. "I found an old lady on skates, and when I took her out of the box she always fell over." Chuckling, she adds, "So I added this gray-haired lady falling down on a frozen pond. I'll be 84 this December, and I'll do this as long as I can hold a brush steady. But I thought I'd better add myself in case I can't paint for much longer. So I tell people that's me, falling on ice skates hanging onto a covered bridge," she says with a laugh. "I know it's me because I can't stand up on skates either!"