For generations, families working the soil and tending to their farms developed makeshift strategies for preserving food, yielding the best crops, and raising livestock, hogs, chickens, and other animals.
Rural farmers and their family's efforts were a hard-scrabble existence spent scratching at the earth, often against incredible droughts, floods, and crop losses. Survival and hopes of a bumper year were often reduced to generational know-how, prayer, and sheer luck.
After the US began recovering from the Civil War, the nation's leading land grant universities began developing new techniques, technology, and ideas that promised safer food storage, better crop yields, healthier livestock, and more accessible ways of producing more and better clothing, shoes, and other necessities.
The problem, researchers soon found, was sharing that knowledge with rural farmers who, perhaps not without cause, found little value in new ways of doing what their families had been doing for generations. The nation's farmsteads were stuck in a "We've always done it this way" approach to farming. To many leading thinkers, politicians, and agricultural experts, this was no way to feed a growing country. The country needed to produce more and produce it cheaply.
Researchers took their ideas on the road, visiting county fairs as one way to share the latest agricultural marvels. From new-fangled tractors and plows to hybrid seeds and planting techniques, county fairs gave rural farmers a local and regional opportunity to learn and showcase their work. Friendly competition, it was believed, would push farmers to adopt whatever edge necessary to beat their peers across the state. Still, researchers found that the adoption of new methods was slow among adult farmers.
Kids and teens, however, proved far more open to agricultural experimentation. This gave researchers at land grant universities like the University of Missouri, Purdue, University of Wisconsin, The Ohio State University, and dozens of others an idea.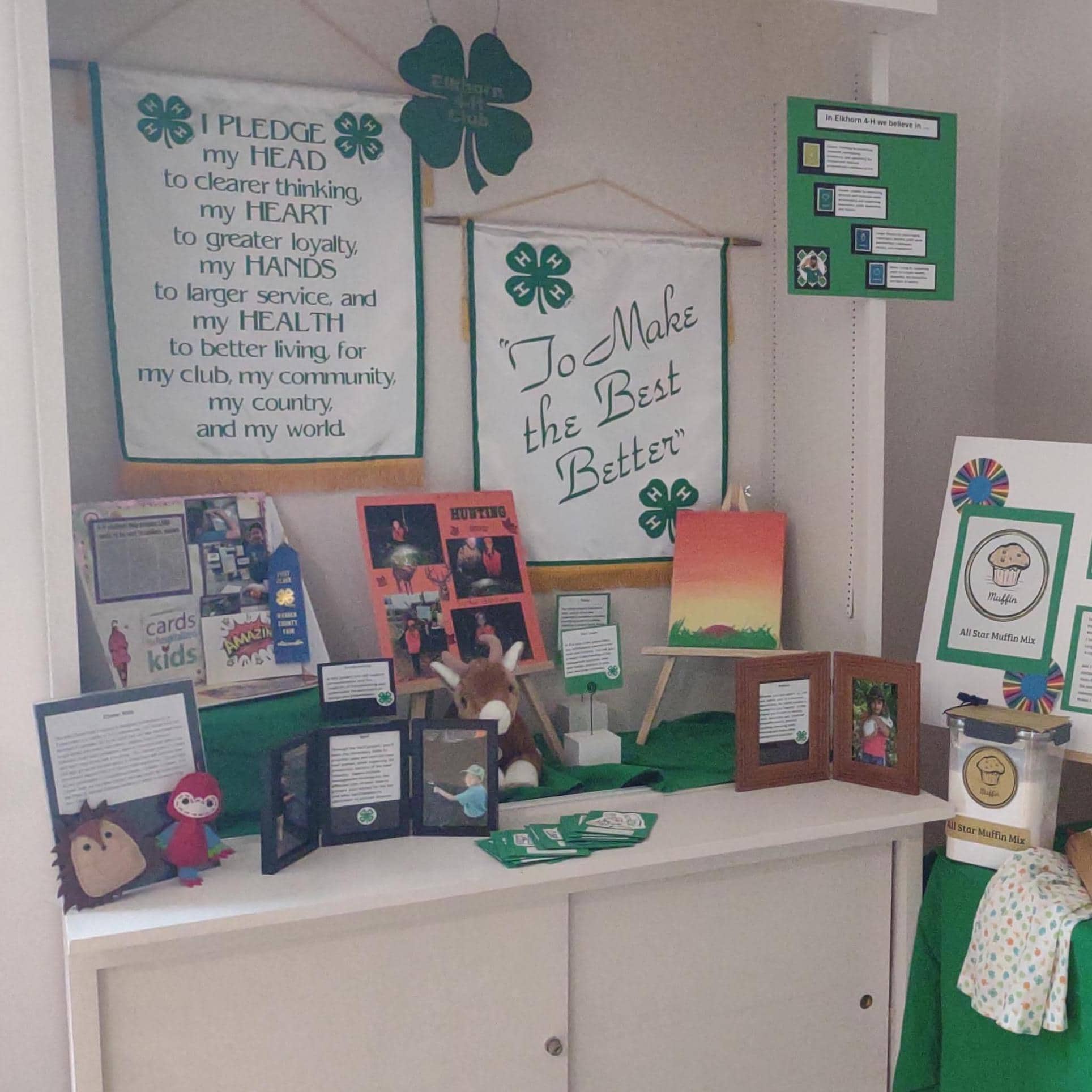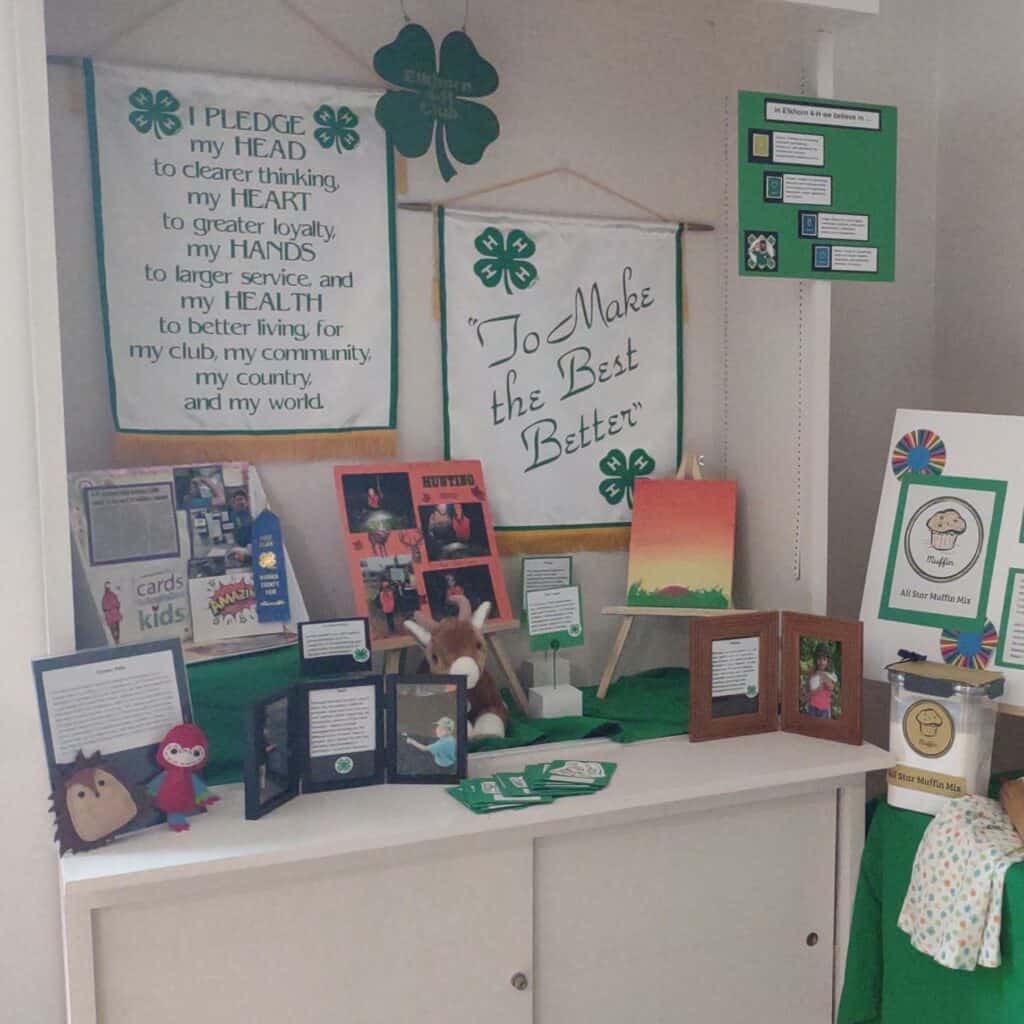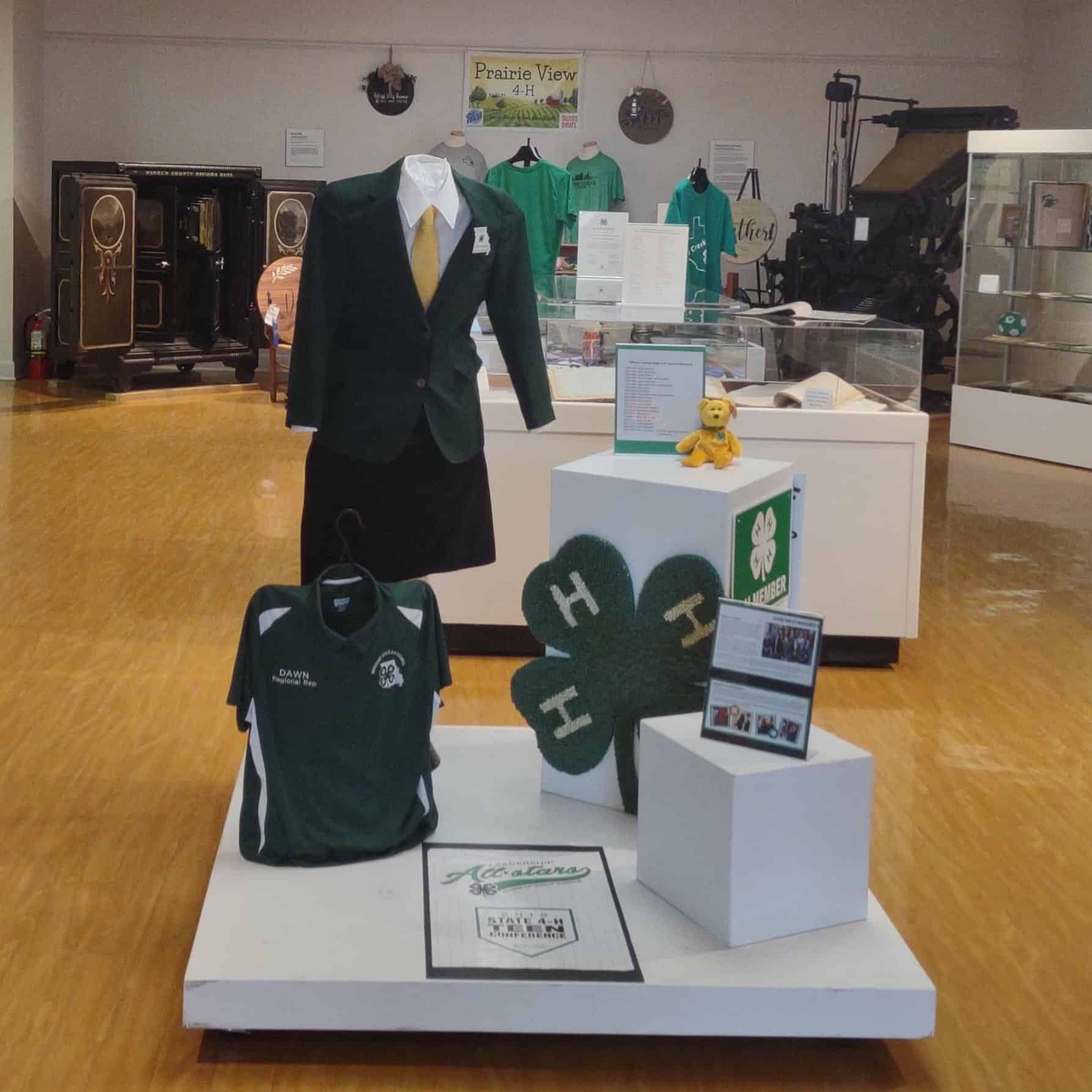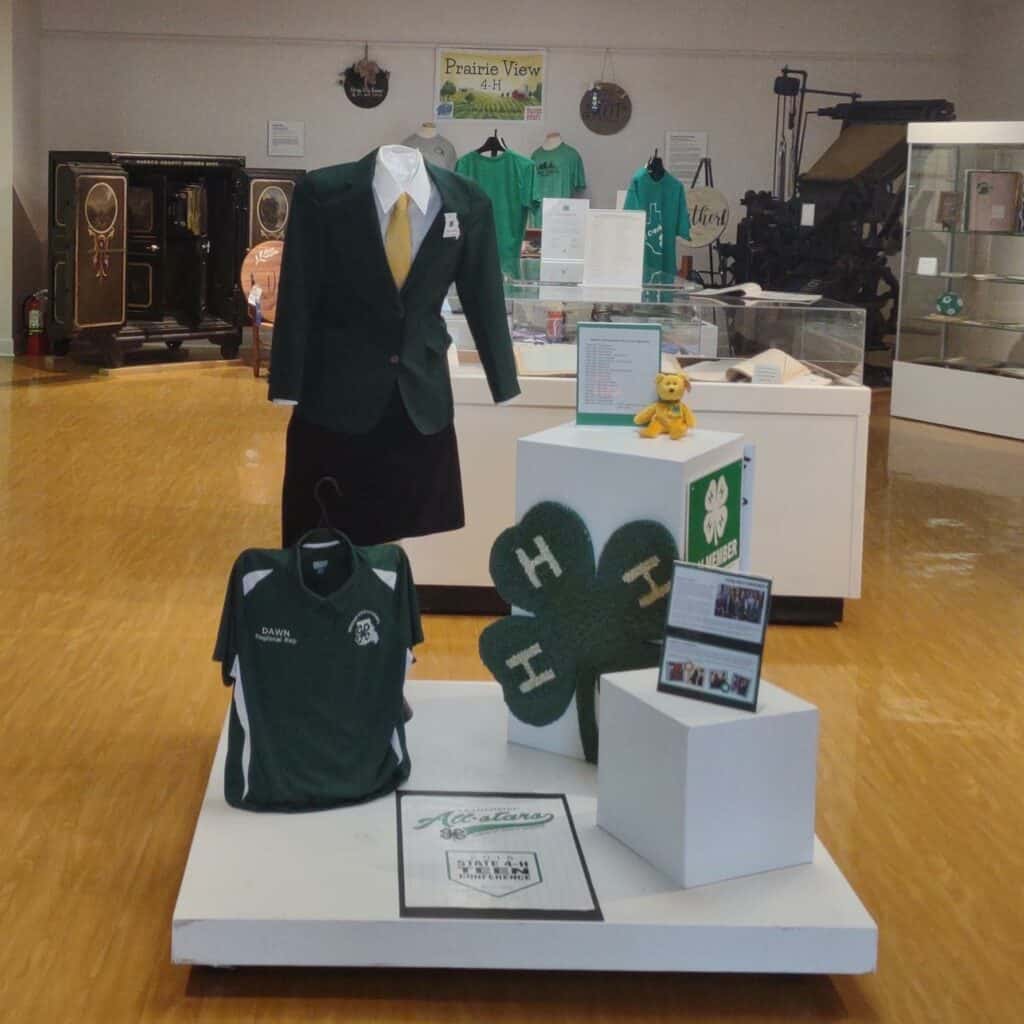 Special exhibits and numerous artifacts from past 4-H and FFA generations on display at the Museum.
Head, Heart, Hands, and Health introduce kids to new ideas
Where their parents might not be willing to bet the farm on untested or uncommon seeds, feed, or techniques, kids were eager to test new methods in their backyard gardens or small unused farm plots. When gardens or livestock showed faster, better, or healthier results, their adult parents took notice.
Researchers at the nation's land grant universities quickly realized the outcomes youth were experiencing "trickled up" to their parents, resulting in faster, efficient mass adoption of ideas that were, initially, only theorized in controlled plots or classrooms.
A.B. Graham in Clark County, Ohio started a local "Tomato Club" and "Corn Growing Club" in 1902. That same year, T.A. Erickson started an after-school club in Douglas County, Minnesota. Similar clubs began within a few years in Michigan, Indiana, Illinois, Missouri, and elsewhere in the US.
Within eight years, Jessie Field Shambaugh developed the idea of a clover pin with an H for Head, Heart, Hands, and Health on each leaf, and by 1912 these 4‑H clubs became a powerful generational force of youth-led home and agricultural science experiments that benefited the nation.
The national 4-H organization was formed in 1914 when Congress created the Cooperative Extension Service of the USDA under the Smith-Lever Act of 1914 — the same bill that helped establish FFA and vocational training as we know it today.
4-H in Warren County works in tandem with other vocational programs and groups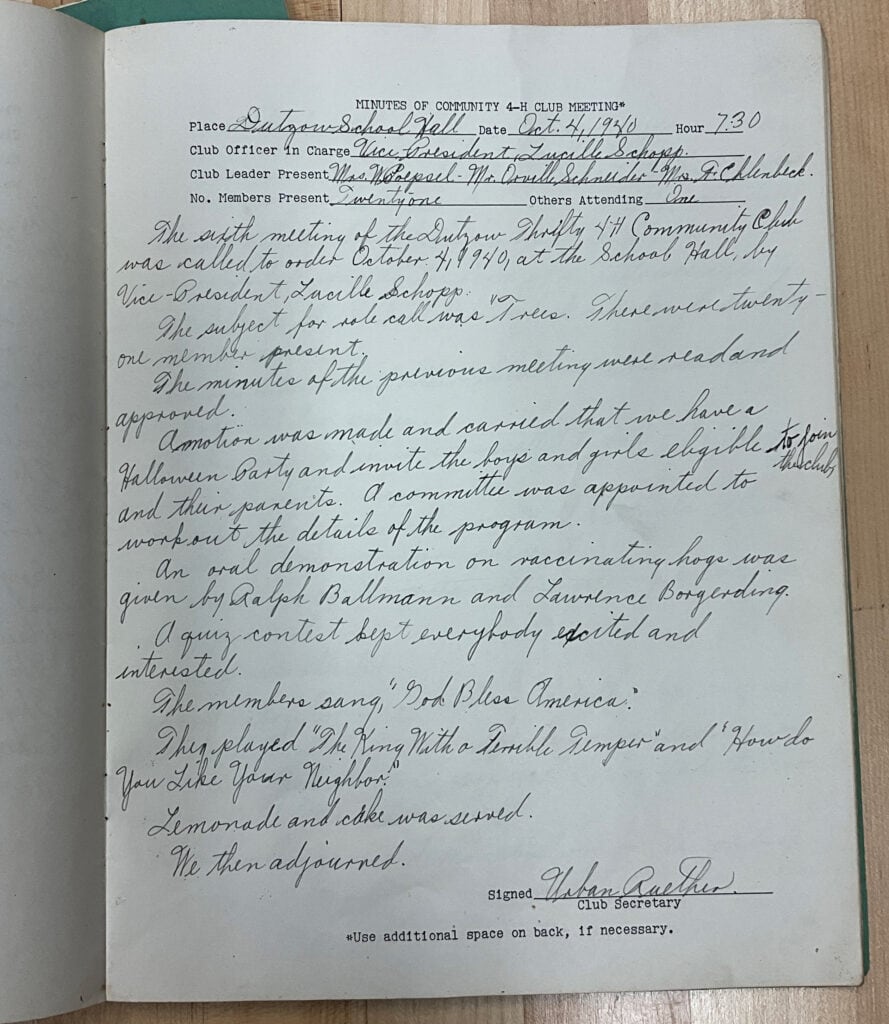 Records from 1936 show the early establishment of 4-H clubs in Warren County schools. There were about 70,000 students enrolled in 4-H clubs in Missouri that same year.
"Popular school 4-H Clubs are on projects of Health, Sanitation, Soil Erosion and Hot Lunch," reported the Warrenton Banner on a visit from the regional Extension Office. "Girls Clubs usually are projects of Clothing, Foods and Home Beautification. Boys usually prefer the Sow and Litter, Baby Beef, Ewe and lamb, or Beef cow projects."
In 1937, The New Truxton 4-H Stock Judging Club reported on their visits to area farms and beamed of a 100% project completion rate. The Singing Seamsters girl's club made scrapbooks, bags, and clothing.
Today, 4-H primarily works with young people of all ages in Warren County. As kids age into high school, many 4-Hers also enroll in FFA, where they continue learning foundational life skills.
4-H'ers put their time to service projects and ways to improve the farm and home, just as kids a century ago did. "Last year's 4-H projects included making blankets for a nursing home," says Donna Sherman, the Elkhorn 4-H Leader. "We write letters and cards to nursing homes. We did a "heart hero" project where we gave little gifts to first responders. And the big thing we always focus on is getting the kids to choose and demonstrate different projects and show it to other kids."
Inside the Warren County Historical Society Museum, several 4-H meeting books from as early as the 1930s and 1940s are on file, including complete rosters of early clubs. In them, young people record the name of their club, their project, and who attended each meeting. Neat rows of checkboxes account for various meeting tasks, and handwritten notes share everything from who proposed what idea to when it adjourned and what drinks and desserts were served.
The projects may seem tame or mere child's play to some, but the program has evolved as non-farm employment changed the nation's workforce. 4-H programs involve 6 million kids studying agricultural and animal science, robotics, rocketry, environmental stewardship and conservation, and computer science.
The Warren County Historical Society and Museum is partnering with Warren County 4-H and FFA this year to introduce kids to a love of history, community service, and service learning projects. It's likely that young people will visit the Museum and Research Library in another hundred years to discover the kinds of projects, people, and ideas today's 4-H kids shared with the community.
In September and October 2023, the Big Creek 4-H, Elkhorn 4-H, Country Crossroads, Wright City FFA, and Warrenton FFA will use the Museum to take tours, host meetings, and use materials in the Museum to create projects.
---
Additional sources cited in this story include
February 14, 1936 Warrenton Banner. "4-H Clubs Great Benefit to Youth. Gives Rural Boys and Girls Opportunity to Appreciate Their Environment," page 1
August 21, 1936 Warrenton Banner. "To discuss 4-H work," page 1
April 30, 1937 Warrenton Banner. "Two 4-H Clubs at New Truxton. Sawing Club and Stock Judging Club Organized at New Truxton Saturday," page 1