Missouri mourns and moves to pass comprehensive regulation after Warrenton disaster
I – Warrenton nursing home cared for 155 residents
Myrtle Gordon was getting dressed in her room around 2:30 Sunday afternoon, February 17, 1957. Reverend Walter Schwane was about to begin his Sunday church services down the hall with several other residents of the Katie Jane Memorial Home and their guests. Schwane, the local Lutheran minister, devoted his Sundays to the word of God. Each week he held Sunday school and bible classes in the morning at St. John's Lutheran Church and mingled with congregants before the 10:30 services, complete with Holy Communion. After services on the first Sundays of each month, Schwane and a small group from St. John's traveled one mile up Highway 47 to hold services and serve communion at Katie Jane. Except conflicts this February forced the date to change to the third Sunday, February 17.
Mrs. Gordon didn't have company yet, but many of her friends and neighbors at the home did. Mrs. Gordon hobbled around her room in her sleepwear on crutches while some fifty guests were arriving to visit the 155 patients. Many patients would be unable to attend services that morning, such as Miss Lena Granneman, 85 of New Haven, Missouri. She suffered paralysis and was confined to her bed on the second floor of the home twenty-four hours a day.
Everyone working at Katie Jane took pride in their responsibilities to ensure residents were well taken care of, always lending a hand whenever necessary. Despite the clouds and mild fifty-degree temperatures that day, nurses at Katie Jane kept the thermostats turned up high to keep the elderly and sometimes frail residents comfortable. Sanitation workers shined and polished the floors and kept the grounds looking neat. Cooks in the kitchen were the envy of nursing homes, with many families claiming Katie Jane served "excellent meals" and the finest food of any old age home in Missouri.
Built in 1892, the two-and-a-half-story brick and masonry building was originally Central Wesleyan College's girl's dormitory. It housed a kitchen and dining hall until the school discontinued use in 1941. Just two years prior, an extensive renovation redecorated each of the rooms. Former student Ralph O. Grote of Rembrand, Iowa recalled his school days there writing, "There was always something dark and ominously impressive about the old structure, especially when, around 4:30 in the morning, I would drag my frequently unwilling steps in the direction of the kitchen in starting the daily grind."
By 1943, Michael O'Sullivan, the home's superintendent and an operator of nursing homes in St. Louis, Normandy, and Elsberry, Missouri, bought and reconfigured the 6,000-square-foot U-shaped building and named it after his mother. Two other nearby buildings on the former campus were also purchased and repurposed for storage and administrative use. Over the intervening years, O'Sullivan spent $30,000 (about $316,000 in 2022) to renovate, redecorate, and equip the facility with new furnishings and equipment. He did this all while charging patients only what they could afford—sometimes nothing for alone and destitute patients.
Around the same time Reverend Schwane arrived with eleven congregants at the home, nurse Mabel Van Kirk received a call at the nurse's station on the first floor. A colleague upstairs reported a heavy patient needed to be moved and she needed help. Leaving the nurse's station alone at 2:35 PM, Nurse Van Kirk headed upstairs to help.
II – Man on fire goes running
Reverend Schwane began services in a first floor room along with 22 patients and 11 visitors. After an opening prayer, the good Reverend encouraged everyone to reach for their hymnals for a stirring performance of "What a Friend We Have in Jesus".
"All our sins and griefs to bear! What a privilege to carry; Everything to God in prayer!" The crowd sang. "Oh, what peace we often forfeit, Oh, what needless pain we bear, All because we do not carry; Everything to God in prayer!" As they sang, many of the patients struggled to stand but carried on leaning on chairs.
"Have we trials and temptations? Is there trouble anywhere? We should never be discouraged—Take it to the Lord in prayer," they continued.
As the group continued into the third stanza, the cry of "Fire!" from down the hall shattered everyone's attention.
Clyde Jones, a black custodian at Katie Jane, was in the kitchen in the rear of the building around 2:45 PM when he saw a man run screaming into a wall of smoke near the rear of the building. Lavoy Finch, a 25-year-old dishwasher, stood at the kitchen sink near Jones and heard the sudden commotion. He turned around in time to see a male patient, his clothing aflame, run screaming down the first floor of the annex wing and into a wall of smoke.
Reverend Schwane closed his hymnal. Stepping to the back of the room, he began looking and craning his neck for clues about the alleged fire. The small church congregation watched and stood in stunned silence. For a brief moment, they likely wondered if there was no fire. Perhaps a confused patient may have called out in error. From where the congregants stood, they could see nothing and did not move until Reverend Schwane, sensing the situation was serious, instructed everyone to get out.
Down the hall on the first floor, Myrtle Gordon was resting on her bed when the unmistakable smell of smoke wafted into her room. Glancing at her door she saw shadowy footsteps shuffling rapidly down the hall. Still wearing only her sleepwear, Gordon threw on a robe, grabbed her crutches, and began limping toward the home's front door. "I've never walked faster in my life!" she recalled later. "When I got to the door, people were jamming up there and I got shoved out with everyone else."
Word spread swiftly through the building that a fire was flashing through, but the fire moved faster. Staff immediately became overwhelmed by the demands of the evacuation work. Smoke boiled down the halls. The temperatures inside began to rise. Reverend Schwane and several men in his congregation instinctively grabbed patients struggling to move, two of whom were confined to a wheelchair, and headed for the single exit door.
Twenty-five-year-old handyman Ernest Mahaney of Montgomery City, Missouri, was visiting the home when he smelled smoke, then witnessed the sudden flash of light and the stinging heat near where the fire may have started. "I ran into the annex where the fire was, but the heat drove me back," he told a reporter, thinking he heard someone cry for help. Feeling his lips and face were burning, he escaped by jumping through a window. Reporters wired his account from inside the conflagration across the nation.
As patients ambled at a near single-file pace from the building, a muffled explosion tore through the rear of the building, immediately alerting anyone still unaware that something was going terribly wrong.
Gas station employee Warren Stuart was putting gasoline in a customer's car across the street when he heard the explosion. Looking up from the pump, Stuart and other customers nearby could see smoke pouring from the end of the building. Dozens of people pushed and shuffled out the front door.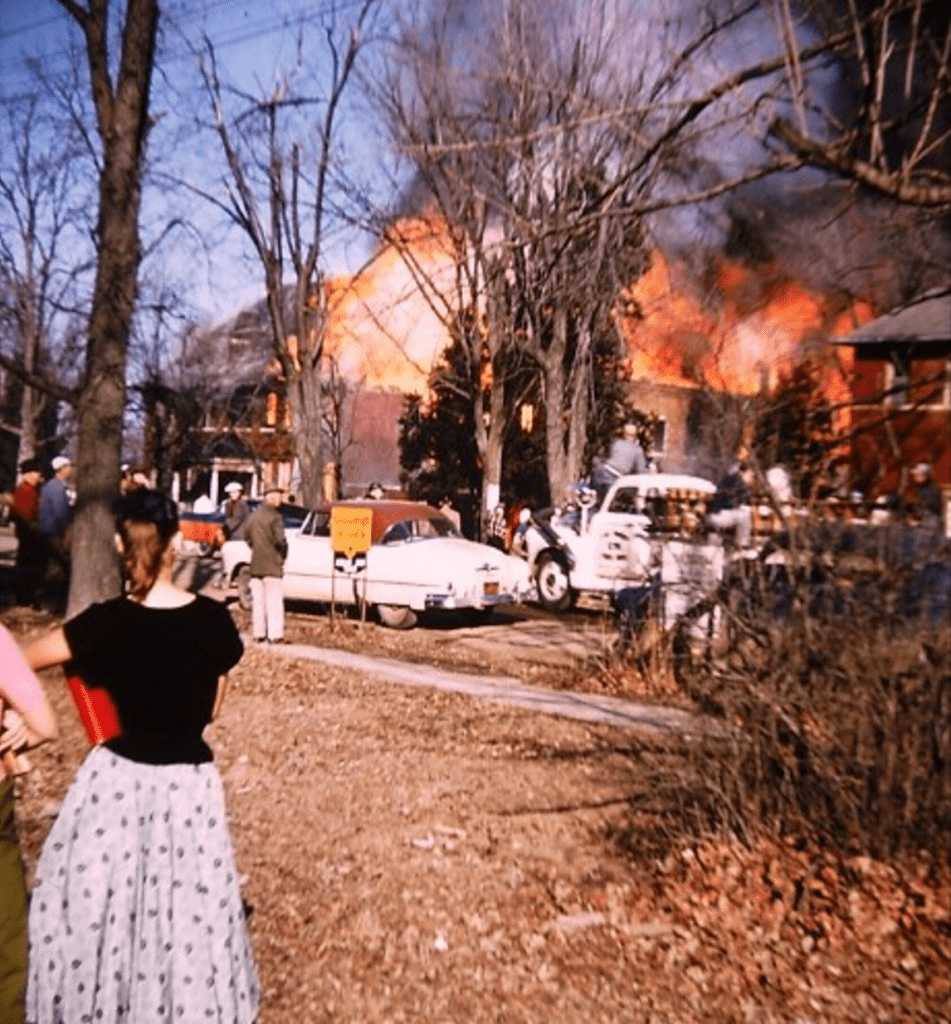 Wasting no time, Stuart hustled under the windows of residents who were trapped in their rooms. Nurses locked patients deemed a risk to themselves or others in their rooms to keep them from wandering away. Now the measures designed to protect them threatened to incinerate them.
Fire engines and highway patrol officers raced into the vicinity of Katie Jane with sirens screaming. Emergency operators at the hospital and Sheriff's office began fielding calls from pay phones and nearby businesses at a breakneck clip as dozens of spectators gravitated around the growing inferno like moths to a flame.
The fire raged so quickly that it seemed the entire structure was engulfed in minutes. One witness said it "couldn't have been more than fifteen", but others, like 34-year-old hardware store owner Jack Barada, believed it was "only three of four minutes." Barada hoisted a ladder from his store up the side of the building to help bring residents down, including an elderly woman trapped in her room. Terrified of the height, Barada recalled having to use "Some pretty forceful language" to get her to come with him.
Time passed inside at an infuriating pace as elderly and frail residents jumped out of their windows into the hands of men like Stuart. Bystanders could hear screams and cries for help all around the outside of the home. The yells of firemen frantically attempting to spray water on the blaze drowned out nearly everything else. "The more water they poured on it, the faster it blew", recalled Stuart. "In only a few moments, the flames and smoke beat back rescue efforts."
Witnesses with the state of mind to assess the situation told reporters later there were no screams or yells from inside the building—just the occasional cry for help from someone ready to jump out a window.
Mrs. Velma O'Sullivan, Superintendent O'Sullivan's wife, was slightly injured as she was among those outside trying to help residents escape. Her 90-year-old mother-in-law was inside the burning building. She was able to help ten people get away by laying mattresses on the ground and encouraging residents to jump. Several more with Stuart's help jumped twenty feet to safety. Mrs. O'Sullivan's mother-in-law was not among them. Nor was Miss Lena Granneman, the paralyzed woman confined to her bed.
Amid the rescue work assembling around the blaze, fireman Bill Turner, 36, was hit on the head—possibly from falling bricks as the walls gave in—and buried with debris. Other rescuers pulled him out and medics took him to a hospital with a head injury and broken ankle.
Former dentist Dr. G. A. Gruebbel noticed smoke filling his room from the underside of the door. Frantically assessing his belongings amid the evacuation panic, he opened his window and tossed out a few clothes and his Bible. Losing sight amid the heavy smoke in his room, Dr. Gruebbel leapt out the window onto a waiting mattress placed there by rescuers.
The rear of the building continued to fuel the inferno's searing energy. The intensity of the heat was like none other many rescuers could ever recall. To some, it seemed the entire facility must have been designed to go up in flames as hastily as possible. The whole place was a tinderbox with its predominantly wood interior, flammable medical supplies, fuel-feeding waxed floors, bedding, linens, and room decor.
Thirty-nine patients in an adjoining building safely escaped to a grocery store across the street. Hundreds of bystanders circled the building when the aching wood frame and masonry of the building began to crumple inwards. The collapsing roof released tons of falling bricks, mortar, and roofing shingles into the building cavity. Mere minutes later, the second and first floors collapsed, unable to hold up the weight of the ashen rubble. The shouting and yelling halted momentarily as hot embers and flames shot higher into the air, gasping in fresh oxygen and leaving nothing but the charred husks of the outer wall masonry. Seventy-two people perished.
III – Rescue ends and recovery efforts begin
Home superintendent O'Sullivan reunited with his wife on the lawn outside the nursing home. Speaking soberly to reporters, firemen, and investigators, O'Sullivan explained he had heating stoves in the building, which investigators assumed may have been the source of the fire. But much of the building's heat was delivered by steam from a powerhouse a block away.
A long line of ambulances, fire engines, highway patrol officers, city police officers, volunteer firemen in personal trucks, and Sheriff's deputies roared into Warrenton from all directions to help with the rescue work. Intrigued by the smoke rising far into the sky, sightseers and curious residents from as far as thirty miles away began driving toward the scene to see what was happening.
Those rescued from the fire sat outside, often dressed in nothing more than their robes or slippers, until shelter could be secured at nearby buildings, including grocery stores, filling stations, and the nursing home's administrative offices. A temporary morgue was erected across the street as rescuers pulled bodies—some so severely burned they could be lifted using only body bags.
Captain C.R. Oliver, commander of Troop C of the Missouri Highway Patrol, assumed control of the investigation with the help of Warren County Coroner Dr. F.H. Knigge, Sheriff Paul Wright, Warrenton Mayor Oscar H. Kossina, and Lt. W.L. Hutchings, one of the lead investigators with the Missouri Highway Patrol. Within minutes it became clear to investigators the building lacked sprinklers, fire alarms, and safe exits, and was coated from floor to ceiling with chemicals, cleaning agents, and materials that accelerated the fire.
Captain Oliver and Lt. Hutchings rapidly focused on two employees who may have seen what happened. Dishwasher Finch and custodian Jones told officers they saw someone running near a linen closet with their clothes on fire. "If the patient's identity can be established, we can determine if he set fire to the home," Lt. Hutchings said. The patient was later identified as Mervin Watkins of Gerald, Missouri. Watkins was a reliable sight sitting near a linen closet on the first floor. Investigators quickly discounted the idea an arsonist started the fire, but a new theory was that the fire started in the basement and burned its way up near the linen closet where Watkins often relaxed.
It seemed such a nightmare to everyone involved that no act of God or accident could have caused such a disaster. The St. Louis Globe-Democrat deemed it a "fifteen-minute holocaust."
In one respite of good news, investigators breathed some relief at the absence of missing persons reports among many of the suspected visitors in the building, leading them to believe everyone who was visiting got out safely.
Reverend Schwane and his flock led, wheeled, or carried 25 patients to safety. "I think God used us to help get these people out," the minister told reporters congregating outside.
The next day, Monday, February 18, teams of men used pickaxes, shovels, and their bare hands to sift away hundreds of pounds of debris, rock, and brick. Rescuers doused hot spots with water as a light rain began to fall and daylight dimmed.
By the end of the day Monday, 27 hours after the blaze started, 43 bodies were recovered. Another 29 remained missing. It was as if the bodies of victims, some identifiable only by their jewelry, were lifted out from the mouth of hell. The youngest victim was 17-year-old Susan Kay Pfister, "an invalid daughter of Mrs. Alice Watts of Lynn, Arkansas", according to the St. Joseph, Missouri News-Press.
IV – Investigators seek answers and chase theories
Come the morning of Tuesday, February 19, 1957, reporters from across the country were arriving in Warrenton to see what happened. So were thousands of others. So many visitors came out to witness the ruins of the country's worst nursing home fire that additional police officers and national guard volunteers came to secure the area. Some sightseers dug through the debris, most likely in search of jewelry. But another steady rain drove most people away.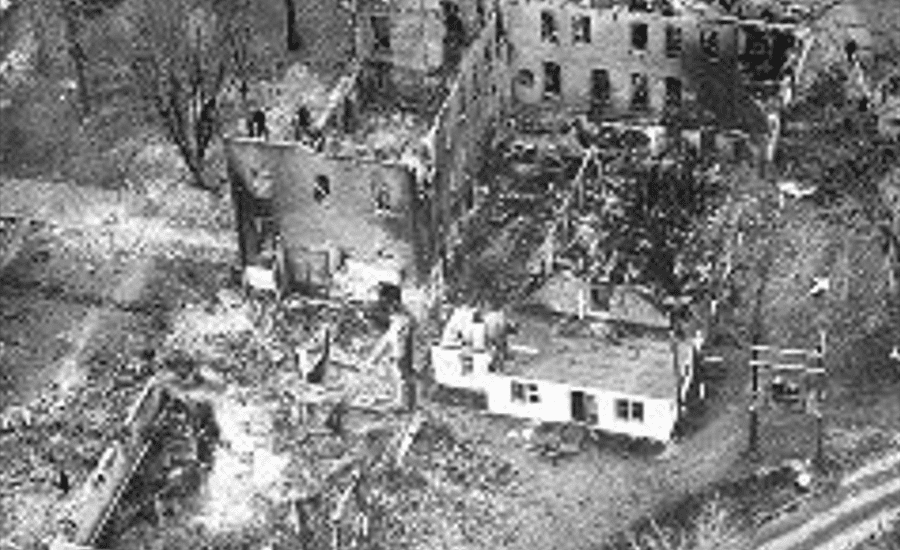 Those who remained closeby included Dr. Gruebbel, the 82-year-old former dentist who returned to the ruins in search of his clothes and Bible. His clothing was never found, possibly picked up by sightseers or burned from the intense heat that charred nearby trees and bushes. But looking up at the branches of a scorched evergreen, his Bible remained comfortably nestled between two branches untouched by the fire and sheltered from the rain by the remaining vegetation.
Joe and Leslie Garrett spent several days traveling between their home in Kansas City and Warrenton, where Mr. Garrett's mother, Mrs. Pearl Garrett, was a patient. They and dozens of others drove back and forth to St. Louis, where ambulances took many of the frailest bodies for identification or advanced care. They were never able to identify Mrs. Garrett's remains.
Lt. Hutchings and Sheriff Paul Wright developed many theories about the fire's source. Still, they maintained no leads despite interviewing over twenty people inside and outside the building at the time of the fire, some two or three times. The O'Sullivans, who were well respected and liked around town, had cooperated and were just as puzzled by the fire as everyone else.
For now, the O'Sullivan's attention shifted to securing the surviving residents in nearby buildings. An auditorium and the home's administrative building, formerly Kessler Hall when it was still Central Wesleyan College, had been converted into an expanded nursing home and medical ward. Forty-three patients were already in Kessler Hall at the time of the fire, which itself was saved from the intense heat. Firemen unable to save the Katie Jane home focused much of their efforts on what they could save by spraying water on nearby buildings mere yards away, including Kessler Hall.
Sixty-eight patients jammed into every available space surrounding the burned-out home. A small concrete-block kitchen was under construction to prepare meals for patients, which for now were prepared in a nearby church. Those that were fit for travel and couldn't fit into the smaller space were transferred to LaDelle Nursing Home in Elsberry, Mountain View Home in Festus, or Halls Ferry Home in St. Louis County. Some moved back, for a time at least, with relatives.
"Most of the dead are believed to have been in the basement wards," Captain Oliver told reporters a few days after the fire, reiterating the roof and upper floors collapsed down and implying the impact had likely killed many. Coroner Dr. Knigge began preparations for a mass burial of the recovered bodies. "This is the worst disaster in my experience," he told reporters. "The worst previous tragedy was about twelve years ago when a train ran into a section gang, killing ten men."
Hindering the investigation was the age of the patients, many of them still blissfully unaware there had even been a fire. Many unquestionably exited the building when everyone else fled and saw nothing beyond frightened stares and shuffling people. Only eight of the eighteen patients with rooms near where the fire was believed to have started survived. "We're working on the assumption it could have been arson, faulty wiring, or accidental, but we're unable to prove any of these things," Captain Oliver said.
Confusion bubbled into public view when Mrs. Clara Cook, the home's assistant superintendent, said the nursing home had standing orders for nurses to not leave their posts. Nurse Van Kirk, the aide who had left her first-floor station to help a heavy patient upstairs, said no such rule existed in the six years she worked there. Mr. O'Sullivan, the home's owner, backed up this statement as well as past aides who worked at the home. Mrs. Betty Ziegler of Truesdale, Missouri, worked as an aide four years prior and was interviewed by investigators and reporters to discern how management operated the facility and also reiterated there was no such rule.
Adding to the frustration, Nurse Van Kirk confirmed, "From five to eleven o'clock at night, I'm the only aide on both floors." Assistant Superintendent Cook reiterated her apparently retroactive belief nurses were supposed to call the administration building for assistance before leaving their designated area.
While disagreements over who was supposed to be where continued, Captain Oliver revealed what most suspected about the building: "The building needed a fire alarm system." No such system existed beyond shouts and the presence of smoke. "It appears doubtful fire escapes would have saved any more lives, but a fire alarm system could have," Captain Oliver said, suggesting many patients were too frail to scale exterior fire escapes. Testimony from those inside the building indicated the biggest hindrance to the evacuation was the patients themselves. "Many didn't want to leave," Captain Oliver said.
V – Lack of a Fire Marshal and safety regulations draws ire
Reporters at the Kansas-City Times reported on several bills introduced in Jefferson City to curb the reckless state of oversight in Missouri nursing homes. The Warrenton blaze ignited internal fights inside the Governor's Office, Health Department, legislature, and other state agencies. The disagreements about fire safety began spewing into public view as people demanded answers in what was believed to be the worst mass fatality of any non-wartime disaster in Missouri's history at that time (a walkway collapse in 1981 at the Kansas City Hyatt Regency hotel killed 114).
The National Fire Protection Association personally sent one of their investigators from Boston to Warrenton to assist with the investigation. Robert S. Moulton, the technical secretary for the NFPA, told reporters in Boston, "Missouri has no comprehensive fire safety regulations on nursing homes, nor a state Fire Marshal and lacks regulations for such institutions."
Nine days after the fire on February 26, Dr. James R. Amos, Missouri's Director of the Division of Health, strode into Governor James T. Blair's office to discuss what was being done to prevent another nursing home disaster. Blair, a Democrat in his first year as Governor, demanded swift action after the Katie Jane fire. He was keen to secure an emergency appropriation of $50,000 from the legislature for more inspectors. But Amos, apparently unmoved, was reported to have said, "We can't possibly use that much money."
That same morning, newspapers across the country splashed large photos of somber, rain-drenched men, women, and children, lowering the unidentified remains of fourteen victims into a mass grave at the Warrenton Cemetery the evening before. Ministers from seven churches conducted the services and gave final rites to four additional victims who were never recovered.
"The governor—literally trembling with anger—sacked Amos because of his alleged inaction in stepping up the nursing home inspections programs," wrote a reporter in The Neosho Daily News.
Some700 nursing homes around Missouri warranted inspections or reinspections. Indeed, the Warrenton Volunteer Fire Department had inspected and awarded a satisfactory record to the Katie Jane Home a mere week before the fire. Blair's plan to spend $10,000 a month (about $101,000 in 2022 dollars) promised not only to inspect but fix long-ignored problems. But finding or deciding who was in charge of inspections proved to be just as irritating and vexing to figure out as the cause of the Warrenton fire.
It came to light the State of Missouri already had five trained fire inspectors, including W. Thad Fife, Director of Fire Safety and Inspection in the Department of Public Health and Welfare. Fife had already begun supplementing inspection work being done by seventeen Health Division Employees, all of whom maintained other responsibilities beyond fire inspections.
"The Governor apparently did not know the state had the five trained safety inspectors, employed since a fire in a state mental hospital at Fulton last year, until he was so informed today by C. Rouss Gallop, Director of the State Department of Public Health and Welfare," wrote reporter Boyd F. Carroll of the St. Louis Post-Dispatch. Hearing the news that seemingly approved his point, Governor Blair reiterated how important it was for a central agency to supervise fire protection matters. Gallop promised an expedited inspection process.
A joint House-Senate committee investigating the fire probed Captain Thomas Moran of the St. Louis Police Department's Arson Squad for answers to the Warrenton blaze. "I know you are trying to find the cause of the fire, but you should have been warned you'll never find it," Captain Moran bluntly told the assembly of five representatives, five senators, and several dozen spectators.
The Jefferson City Post-Tribune reported at the March 28 hearing that Rep. John E. Downs (D) of Buchanan County asked Moran: "If you were in our place with the time and the means to investigate this fire, how would you proceed? What would you do?"
Moran replied matter-of-factly: "I don't think you can do any more than what has been done. Theory is all you'll ever have."
Working with Democratic State Senator John W. Noble of Kennett, chairman of the Senate Appropriations Committee, and Democratic Senator Albert M. Spradling Jr., Cape Girardeau, Blair, and legislators authored a bill giving the State Division of Health stronger authority in regulating fire safety in nursing homes. A bill to establish an Office of Fire Marshal in Missouri and to provide him with the power to inspect all public buildings for fire hazards was introduced in the Senate by two other Democrats, J. F. Patterson of Caruthersville and William B. Waters of Liberty.
The bill to expand the state's authority passed through the senate but stalled in the house. Representatives feared many patients might be shut out of homes, no matter how ramshackle their condition, and be worse off.
Testimony that many homes were "run by ex-cons" and a "racket" shocked those in attendance. Undeterred, amendments pushed by the Governor included occupancy limits, limiting the number of patients that could share a space, construction types, requirements for firewalls and other fire stops, exit doors and evacuation plans, drills, and alarms. Another required one attendant must be on-duty for every 20 patients at all times with a standby for emergencies in nursing homes.
Governor Blair continued to reiterate the greatest need was for immediate hazard remediation in nursing homes, even as legislators questioned the safety of hospitals and other healthcare facilities. The Governor said he would order the State Health Division to put the new nursing home code into effect as soon as possible. The new code was based on standards of the Underwriters' Laboratories, Inc., the National Bureau of Standards, and the American Gas Association laboratories.
VI – Aftermath of an assumed electrical fire
Seventy-two people died in the Katie Jane Nursing home fire. It was and remains the largest nursing home fire disaster in U.S. history. Ninety survivors remained in the makeshift barracks erected in Kessler Hall for over a year after the blaze. Teams of contractors worked tirelessly to renovate the space into a proper facility with privacy, walls, medical supplies, a kitchen, an automatic fire alarm, and fire-resistant construction materials.
On March 13, 1957, Governor Blair signed a broad nursing home bill, hailing it as a "A great forward step for Missouri." The bill made Missouri the first state to grant professional recognition to nursing homes, among other fire safety measures that resemble many of the standards we expect today. Dr. H. M. Hardwicke, Blair's replacement for State Health Director, would oversee the bill's administration.
It wouldn't be until fifteen months later, on May 9, 1958, that the Katie Jane Memorial Home would receive its license to operate again with up to 97 patients—half the capacity of its prior operation. With dozens of patients having nowhere else to go, the home had been operating on a promise with the State Bureau of Nursing Licensure that it would comply with all state regulations from any nursing home bill.
At the March 28 joint investigative committee hearing, legislators beguiled by a cause for the tragic blaze turned to "lurking suspicions," wondering if Lt. Hutchings could even begin to guess what caused the fire if not for fear of being chased by the press. Answering calmly and with assurance, Lt. Hutchings leaned forward into the tape recorder and said, "I wouldn't be reluctant to give [a guess] in public. My guess would be it was the wiring."
Asked the same question, William Trantina, Chief Inspector of the St. Louis Fire Marshal's office, replied, "I am a fireman, and I deal in facts. I don't hold back information. I think the mistakes here are obvious. My guess would be that it was an electrical fire."
Find out more about Katie Jane's past
Browse photos, read newspaper clippings, and more about the Katie Jane Memorial Home at the Museum and research library. There's more to explore in our past that helps shape the present and future.